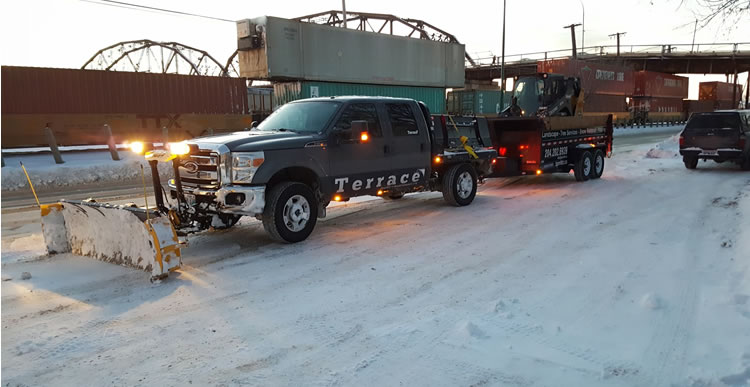 Snow Clearing, Plowing, Hauling and Removal Services in Winnipeg
We specialize in keeping your property free of ice and snow.
Snow clearing, plowing and hauling services are essential in our area of the country.  Whether you need your driveway cleared of snow or you'd like parking lots and other private property cleared of snow you're going to need a good snow removal contractor.   If you're scrambling to find a reliable company with the equipment and personnel to keep your driveways or parking lots clear, you've just stumbled upon one of Winnipeg's best-kept secrets!
Terrace Property Maintenance Ltd.  Is a snow removal contractor based out of Winnipeg, MB.  We specialize in providing snow clearing, snow removal, snow plowing and snow hauling services for both residential and commercial clients.  From clearing snow blocked driveways and parking areas to making sure commercial parking lots are safe for their patrons and free of snow and black ice, our team can stay on top of your snow and ice problems.
Snow can be handled in a variety of ways from simply plowing, to actually loading up the snow and hauling it away or dumping it on a specific area of your property.  When it snows, our crews and equipment are working 24/7 making sure our clients needs are met.
Snow Handling Services in Winnipeg MB
Snow plowing services
Shoveling walkways and paths
Snow loading / hauling off-site
Sanding and salting services
As you know, snow fall is fairly unexpected and we need to be prepared for when it starts to fall.  For this reason, priority is always given to existing customers with an on-going retainer for snow removal during the winter months.  We do offer our services on an "on-call" basis for residential and commercial clients but it's first come – first serve.
Why Choose Terrace Property Maintenance Ltd. For Snow Handling Services in Winnipeg, MB?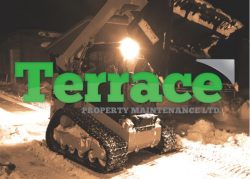 When you choose Terrace Property Maintenance Ltd. to provide snow removal services in Winnipeg you are partnering with a team of professionals who will care for and maintain your property as if it were our own.  You can count on great communication, reliable service, and fair prices.
Our team takes great pride in the work they do and we listen to the needs of each and every customer as no two properties are alike.  You can count on us to safely plow, clear or remove the snow from your property.
If you'd like to receive an estimate for snow handling services from Terrace Property Maintenance Ltd. please give us a call (204) 202-6939 or send us an email through our contact form and we'll get right back to you.