Keeping

Parki

ng Lots

Across Winnipeg Clean With Our

Sweeping Services
Keeping

Parking Lots

Across Winnipeg Clean With Our

Sweeping Services
Winnipeg's fastest-growing parking lot sweeping service provider.
Winnipeg's fastest-growing parking lot sweeping service provider.

Changing The Lives Of Property Owners
Join the 600+ property owners and managers who are actively using Terrace Property Maintenance Ltd. to look after their Winnipeg parking lot sweeping and scrubbing needs.
Why Is Everyone Switching ...?
What Exactly Is The Difference Between Terrace Property Maintenance & Everyone Else?
Never wonder when your parking lot will be swept again!
   Same Day Proposals
We turn around quotes quickly. You can expect to hear back from us within 24 hours. We want to do the job as badly as you want it done.
​   Aerial Site Map Layout
We'll outline the job site so you know exactly the work that is being done. No more worrying about  areas not being swept or scrubbed.  Our property maps align expectations and ensure the job is done right the first time.
​   Project Completion Follow-up
Once your project is complete, one of our customer success team members will follow up to ensure your satisfaction with the final result.
​   Before & After Photos
Keep peace of mind knowing what your property looks like before or after we visit.  Our field teams are trained to document your site conditions before and after they sweep and scrub your parking lots and parkades.
   Documented Site Visits
Know when our teams visit your property at the click of a button.  Each visit is documented and available for review at your leisure within your client portal.
Experience The Benefits Of
Parking Lot Sweeping 
   Lower Maintenance Costs
​   Attract More Customers
​   Increase Health & Safety
​   Prolong Parking Lot Lifespan
   Discourage Pest Infestation
Make Your Lot Shine Again
Protect your investment with a thourough cleaning.
   Decrease Debris Tracked Into Buildings
Less cleaning and reduced wear and tear on indoor flooring surfaces.
​   Increase Line Paint Lifespan
Parking lot line paint remains visible longer.
​   Protect Floor Coatings & Membranes
Reduce damage and wear and tear over expensive floor coatings.
​   Preventative Maintenance
Notice small issues within your parking lot surface before they turn into major problems.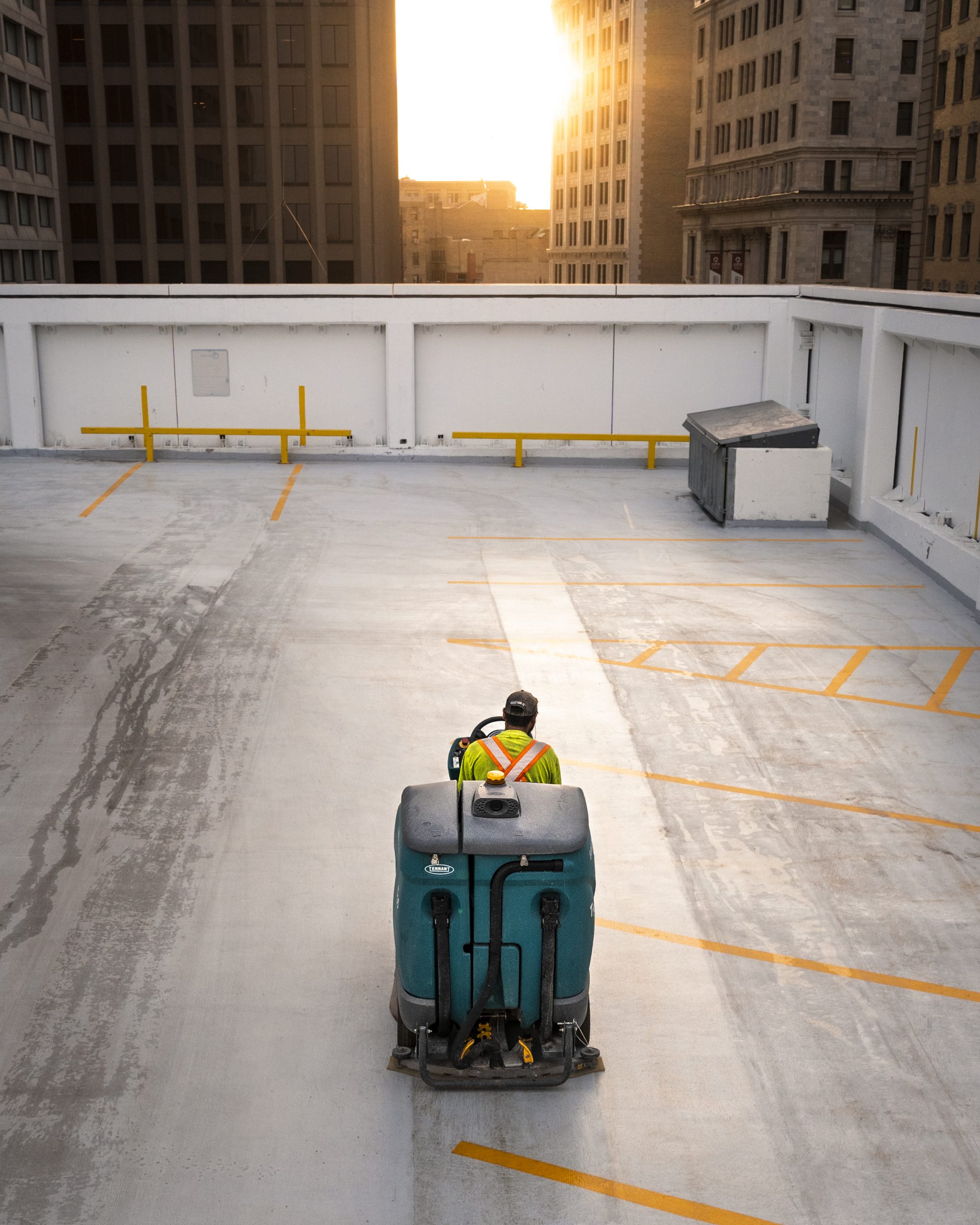 Promote your property and attract more visitors!
A parking lot is more than just a place for your customers and employees to park their cars, it's the first impression! 
   Warm, Welcoming Impression
Keeping a lot free of sand, debris, and litter is crucial in making your property look professional, well-cared for, and welcoming
​   Safe Environment
Gravel and other debris can reduce traction, which can lead to tripping hazards.  Being proactive and maintaining a clean surface means a safer environment for your staff and patrons.
Parking Lot Sweeping Demo:
Learn The Steps Our Parking Lot Sweeping Teams Take To Ensure Your Property Looks Pristine.
Watch how Terrace Property Maintenance performs parking lot sweeping and parkade scrubbing from start to finish.
Get Your Parking Lot Cleaned
   Same Day Proposals
​   Aerial Site Map Layout
​   Project Completion Follow-up
​   Before & After Photos
   Documented Site Visits