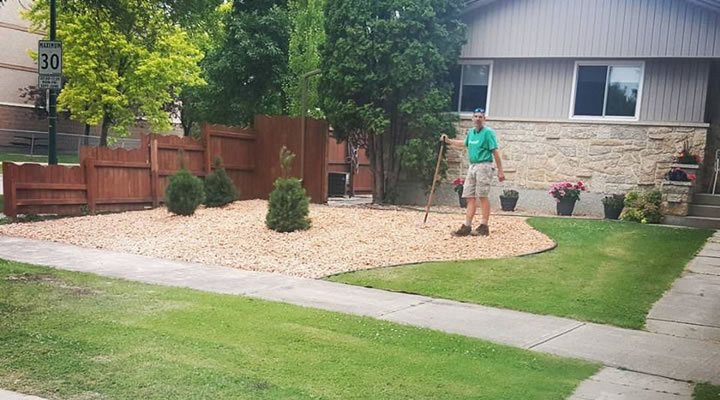 Are you thinking about landscaping your front lawn on your Winnipeg, MB property?  With so many options and styles available it can be a confusing decision, especially if you aren't aware of all of the options, or even some options that might not be feasible because of your lot size or shape (or your budget).  This article will share a few ideas and things to consider when planning out your front yard landscaping.
Start With A Plan
If you want to completely makeover your front yard it's always a good idea to start with a plan!  Your front yard has the largest impact on your curb appeal next to the appearance of your home.  If you're trying to make a statement then your front yard is a great place to show the neighbors you're committed to keeping your property value high.  There are many things you'll need to consider if you're landscaping the front yard.
How big is the area?  How intricate do you want the landscape to be?  Will you incorporate only softscaping or some hardscaping too?  What is your budget?  How much will you be doing on your own?  Depending on the size of your front yard and what your budget is you may want to even consider hiring a landscape designer (if you don't know of one we can recommend a few really good ones!).  Hiring a landscape designer to come up with a beautiful plan for your landscape can save plenty of headaches and help guide you along the right path to a beautiful front yard, complete with interest and beautiful grass or gardens or both.
When you hire a landscape designer to design the landscape you'll benefit from their intricate knowledge of materials, available plants (that do well in our environment), and their knowledge of the latest in landscaping trends for the look you'd like to achieve.  They provide your landscape contractor (Like Terrace Property Maintenance) with a clear paint-by-numbers plan to build your landscape just the way it's been envisioned.  With a wealth of digital tools at their disposal most landscape designers can provide your complete landscape ideas in both 2D and 3D drawings.
We always enjoy working with our clients when they have a landscape plan developed as it prevents any guess work and makes the estimating process easier.  If you're landscape is small and simple then we can easily share our ideas with you, only hire a designer if the budget is available.
Get Your Property Level Or Properly Graded
If your property isn't graded properly it's really hard to get a good lay-of-your-land when trying to formulate a plan for your front yard.  Poorly graded front yards may have drainage problems, they won't appear level, there may be lumps and low spots that take away from a smooth and uniform appearance, and it's certainly not as easy to visualize where everything is going to go.  If your property has been cleared of brush and properly graded then it's like a blank canvas waiting for a landscape designer or a knowledgeable landscaping team to transform.
Terrace Property Maintenance specializes in grading properties with newly build homes or grading properties that have been neglected for many years.  Regardless of your properties state we'll be able to use our equipment (mini-excavators and skid-steers) to massage the land into a blank canvas to install your new lawn and front yard landscaping.  We are drainage experts and can make sure your property is graded away from your home so as to not cause any problems for your foundation, crawlspace, or basement.
Incorporate Borders and Hardscaping
Hardscaping such as sidewalks and walkways, even a concrete driveway can help break up the front yard and hardscapes are much easier to maintain with a powerwash once or twice per year as opposed to the constant watering and maintenance of a lawn or garden.  Hardscapes can be used with great effect to reduce lawn or high maintenance areas. It takes extra grading and prep work to install a beautiful hardscape but if done right, offers many years of good looks and is extremely effective at boosting curb appeal and making your home stand our for all the right reasons.
Some Great Hardscaping Ideas To Incorporate Are:
Fireplaces and outdoor fire pits
Sidewalks from your driveway to your front door or around the home or to a secondary suite
Stepping stone pathways make great paths through garden beds
Retaining walls can line your driveway or offer separation for garden and lawn areas
Buildings an outdoor structures such as gazebos, pergolas, or even a beautiful arbour
Wooden fences or privacy walls
Staircases are almost always required on sloping properties
Concrete driveways or parking pads
Edging around lawns, gardens, or driveways
Interlocking brick or paver patios and front steps
Construct Garden Beds
Well thought out garden beds will add depth, color, and diversity to your front yard.  They'll also add maintenance and watering requirements.  Whether you're going with a traditional grass lawn or a low maintenance drought tolerant landscape your garden beds need to be designed with care.  There are so many different types of native plantings that do well in our environment and many more non-native species that can bring additional color and interest, the problem is knowing where to start and what to use.
This is where hiring an experienced landscape designer or landscape firm can be worth it's weight in gold as they will already know the right species of plants that work best and offer the look or colors you'd like in your garden areas.
Don't Forget The On-Going Maintenance
The key to a beautiful landscape is to keep on top of the maintenance, neglected front yards really detract from the appearance of your home and it doesn't take very long for them to get out of control.  We are often called to come out to a clients home for a property clean up because they've left the maintenance go unchecked and can't get it back under control without the help of a team who's ready to spend the day or a couple days cleaning out the beds, trimming, edging, and getting the property back into a manageable state.
If you have a lawn it should be mowed weekly or bi-weekly depending on the weather, your trees, shrubs, and hedges need to be trimmed at least once or twice per year, your garden beds need a good fall and spring clean out of weeds and organic debris, if not, you're property is going to stand out for all the wrong reasons!
Regular Maintenance Should Include:
Lawn mowing, edging, and trimming
Lawn feeding, aeration, and weed control
Regular trimming of shrubs and hedges
Trimming and pruning of trees and bushes
Mulching of garden beds for winter
Spreading soil ammender when and where required
Power washing off dirty surfaces
Blowing out of irrigation systems during winter
This is one area of a beautiful landscape that you just can't get away from unless you want to move into a condo or townhome!
Terrace Property Maintenance Ltd. Provides All Of These Landscaping Services in Winnipeg, MB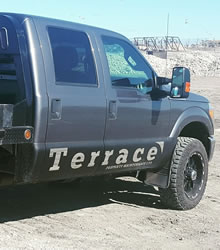 When you choose Terrace Property Maintenance Ltd. to landscape your front yard you are partnering with a small, locally owned, family run, and experienced landscaping business.
The Terrace team is large enough to grade and install front yard landscapes of all sizes but we're still small enough to give your front yard and property the specific care and attention it needs to make a big impact on your curb appeal.
We believe in providing great service and value along with complete customer satisfaction with every project we complete! We will conduct ourselves like true professionals on your property at all times, leaving no trace behind but your beautiful new front yard!
If you'd like an estimate to landscape your front yard please give us a call (204) 202-6939 or fill out our contact form and we'll get right back to you.