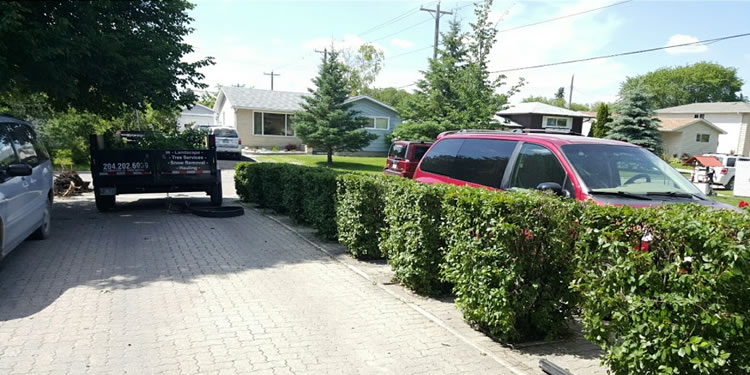 Tree and Hedge Trimming and Pruning in Winnipeg MB
We specialize in keeping your hedges and trees looking uniform and healthy.
Do you have many hedges, trees or shrubs on your property that need regular pruning and care?  Have you just moved into a home that has a large out of control hedge or trees on the property that are up against the home or blocking natural light?  While trees and hedges can beautify your landscape and make it look more established, they can also make it stand out for all of the wrong reasons if they are overgrown and uncared for.
In order to keep trees, shrubs and hedges looking their best with healthy new, uniform growth the old dead, and dying branches must be trimmed back and pruned at least once or twice a year, sometimes more depending on the species of tree or shrub.
Terrace Property Maintenance Ltd.  Is a full service landscaping and tree service contractor based out of Winnipeg, MB.  We specialize in tree services such as trimming and pruning trees and hedges for both residential and commercial property owners.  From pruning a privacy hedge back into a nice and tight uniform shape to maintaining all of the trees on your property, our team of tree care experts will be able to keep your trees healthy and looking great.
Tree Trimming and Hedge Pruning Winnipeg MB
Privacy Hedge Trimming
Hedge Removal
Tree Trimming and Pruning
Tree Care and Maintenance
Shrub and Bush Pruning
How Our Tree and Hedge Pruning/Trimming Process Works
There are limits to the tree work we can do for our clients and it's usually limited to what we can "safely do".  We have specialized equipment including ladders, extensions, and bucket lifts that allow our personnel to safely reach and remove high and hard to reach limbs and branches.  This reduces the risk of injury and damage to the tree and surrounding property.  We also work with specialized arborists who can take care of any dangerous tree trimming should we encounter a customer that requires trimming in a dangerous circumstance (around power lines, etc.)  and can organize and supervise the process.
We start with our initial consultation.
We will listen to your requirements, making any necessary suggestions.
We will work with you to determine the trees and shrubs that need pruning.
We show up on the scheduled day(s) and prune and trim your trees and shrubs as promised.
The end result is healthy trees and shrubs with a clean, uniform look.
Why Choose Terrace Property Maintenance Ltd. For Tree and Hedge Pruning in Winnipeg, MB?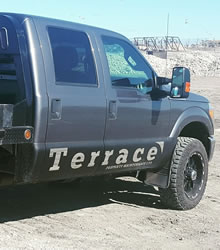 When you choose Terrace Property Maintenance Ltd. to provide tree or hedge trimming and pruning services in Winnipeg you are partnering with a team of professionals who will care for and maintain your property as if it were our own.  You can count on great communication, reliable service, and fair prices.
Our team takes great pride in the work they do and we listen to the needs of each and every customer as no two properties are alike.  You can count on your hedges and trees getting the expert care they need for continued healthy growth.  We'll be leaving your trees or hedges with a nice, uniform looking appearance.
If you'd like to receive an estimate for tree or hedge pruning services from Terrace Property Maintenance Ltd. please give us a call (204) 202-6939 or send us an email through our contact form and we'll get right back to you.