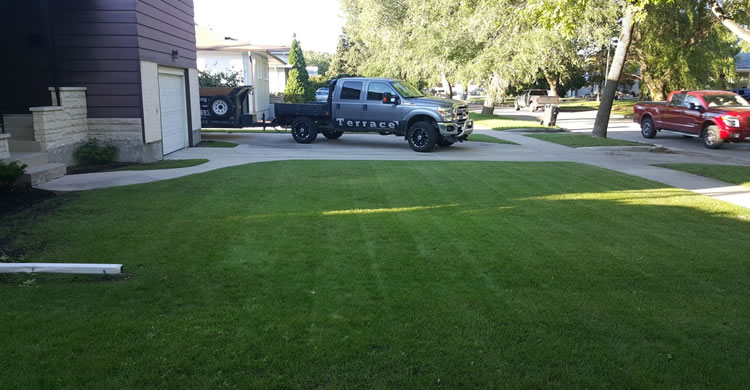 Fertilize Your Lawn For Lush, Green, Healthy Growth!
We specialize in fertilizing and feeding lawns of all sizes.
The nicest looking lawns in Winnipeg usually have a thing or two in common.  First, they are usually properly maintained by a professional lawn care company by people who are knowledgeable and experienced in lawn care and secondly they probably implement some type of feeding and fertilization program to keep the lawn in a very healthy, lush, green state.
Terrace Property Maintenance Ltd. Is a full-service property maintenance company based out of Winnipeg, Manitoba.  We specialize in all aspects of residential and commercial lawn care including lawn fertilizing services for lawn areas of all sizes.
Lawn Fertilizing Services Winnipeg Manitoba
Scheduled Lawn Fertilization
Commercial Lawn Fertilization
Lawn Restorations and Replacement
What Does Your Lawn Need For Fertilizer?
Like all plants, the grass in your lawn thrives on the elements N.P.K.  These elements are Nitrogen (good for lush green growth), Phosphorus, and Potassium.  Your grass requires these elements and other trace elements in varying amounts throughout the year, depending on the stage of growth and health of the grass.  For example, in the spring when growth is happening very quickly your grass will need lots of Nitrogen, moreso than other elements.
Fertilizer isn't just a one-time thing either… If you want a healthy looking lawn then it needs to be fed regularly usually in 4-6 week intervals for the best results.  There are literally thousands of lawn fertilizing products on the market but there are only a select few that work exceptionally well in our Winnipeg climate.
How Our Lawn Fertilization Process Works
The first step is an initial visit to your property to determine the state of your lawn and what type of attention it might require.  Many of the lawns we visit for fertilization are well beyond the point of bringing them back, we'll tell you if that's the case.
We start with our initial consultation.
We check out the health of your lawn and determine a suitable schedule.
We show up on the scheduled day and complete our services as promised.
The end result will be a well-fed lawn that is nice, lush and green!
After we've visited your property and discussed the project with you, we'll be to provide you with an accurate cost estimate to regularly fertilize your lawn.
Why Choose Terrace Property Maintenance Ltd. For Lawn Fertilizing in Winnipeg, MB?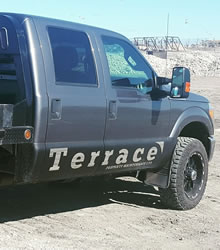 When you choose Terrace Property Maintenance Ltd. to provide lawn care services in Winnipeg you are partnering with a team of professionals who will care for and maintain your property as if it were our own.  You can count on great communication, reliable service, and fair prices.
Our team takes great pride in the work they do and we listen to the needs of each and every customer as no two properties are alike.  You can count on real solutions to your lawn care problems.
If you'd like to receive an estimate for lawn fertilization services from Terrace Property Maintenance Ltd. please give us a call (204) 202-6939 or send us an email through our contact form and we'll get right back to you.