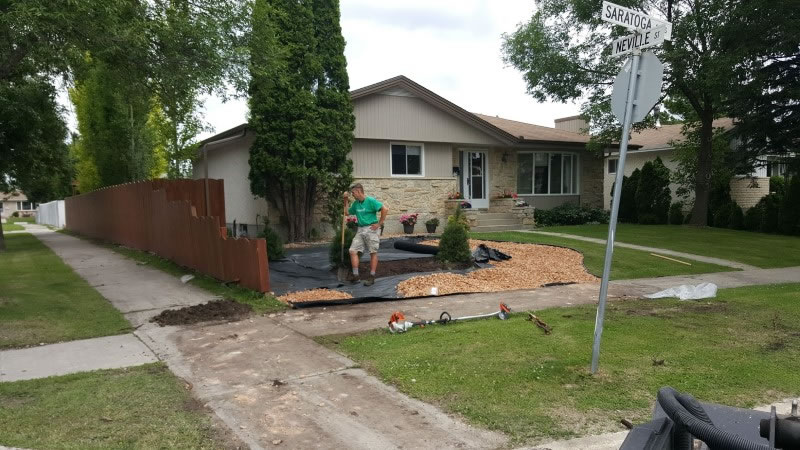 We all want our homes to be surrounded by a visually appealing landscape and have good curb appeal.  For many homeowners, an unlimited landscaping budget isn't something they are working with so any improvements you choose to make need to provide excellent value and make a visual improvement in your curb appeal.
Many experts would agree that nicely landscaping your property almost always offers an excellent return on the investment (contributing as much as 20% of a properties overall value!) but what if the budget you've set aside for landscaping is only $10,000 or less?
When making small investments into your landscaping you want to make sure that your choices are going to make a BIG contribution to the overall appeal and value of your property, so where you spend that money can make a HUGE difference!
Here are a few landscaping ideas for Winnipeg homeowners who are looking to spend some money on improving their landscaping but they still want to keep the budget at less than $10,000 for the project, or multiple projects.
#1.  A Thorough Property Clean Up Will Make a Huge Difference
If you own or are acquiring a property that has been poorly maintained, you might be working with a diamond in the rough!  Sometimes it's the little things that make the most difference when it comes to landscaping.  There is no sense spending a bunch of money on your landscaping until you know exactly what you're working with.  For many properties (especially if it's been a rental or neglected) this means a total yard clean up to get everything into a manageable state.
This would include getting trees and shrubs pruned up and uniform and preventing them from touching your house or any out-buildings, cleaning out the garden beds of all the debris, collecting and removing all the fallen leaves, mowing and re-edging the lawn, there is no end to the amount of property maintenance that most homeowners in Winnipeg face.
Yard and Property Clean Ups Could Include:
Leaf collection and removal
Garden bed clean outs
Mowing overgrown grassy areas
Establishing new garden edges
Property clean ups usually involve a small crew with a truck, dump trailer and some commercial grade lawn and garden power and hand tools.  Property clean ups are usually in the $1000 – $2000+ dollar range but it really depends on the size of the property and the amount of work you'll have us do.  It's best for us to take a look at your property first before we provide you with an estimate.
#2.  Planting a New Privacy Hedge Builds Value Over Time!
Most homeowners place privacy at a premium.  It's usually a very important quality every buyer is looking for in a home.  Increasing privacy usually increases the value of your property.  For this reason, privacy hedges make an excellent investment into any residential landscape and they increase your property value as they mature and fill out, offering the looks (and privacy) that make them desirable in a landscape.
The only downside to a privacy hedge is that they aren't an "instant fix" it can take a few years for your hedge to reach a desirable size that offers the privacy you seek.
They can be purchased in varying sizes from local nurseries from small seedlings all the way up to 8-10′ tall trees that already have several years of growth behind them.For most homeowners, privacy is high on the list for their property.  Increasing privacy usually increases the value of your property too.  Planting a new privacy hedge can make an excellent investment into any residential landscape and they increase your property value as they mature and fill out, offering the looks (and privacy) that make them desirable in a landscape.
One important detail with hedges is that during the spring and summer they need to be watered regularly (usually with an irrigation system if available).  Privacy hedges will need to be trimmed and pruned annually or they will not grow thick and healthy or into the shape you desire.
Hedges are an ideal option for planting along property lines, along property frontages and any other area you'd like to have more privacy.
#3. Make Over Your Front or Back Lawn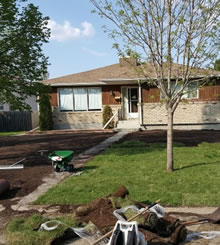 Is a beautiful, lush, green lawn in your plans for your dream landscaping?  Restoring an old, dead section of your lawn, replacing the entire thing or even installing a new lawn where you never had one before is all possible with the budget we've outlined above.
For many average sized properties in the Winnipeg area, it's often surprising to the homeowners how affordable it is to have a new lawn installed.  Turf or Sod is the most popular option because it's affordable and literally gives you beautiful, lush, green grass in a matter of days!  After your property is graded, a lawn soil mix is spread down and we're ready to roll out your new grass!
Sod is estimated based on the square footage of the property and the amount of prep work and labor required to install it.  If you're working with a $10,000 budget then a brand new front and back lawn might not be as far out of your reach as you thought!
#4.  Do You Have Any Small Excavation Projects?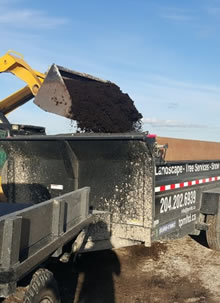 There are many landscaping projects that require the moving of earth and materials.  Either pushing the materials about your property, removing it or bring new materials in.  This often involves much heavier equipment such as excavators.  When you start bringing in the big machines the cost can sky-rocket and for many landscaping tasks, they are simply overkill.
If you have small landscaping projects around your home or property that could be completed with a skid steer and a skilled operator then make 2017 the year to get those projects done!
Skid steers are extremely versatile and nimble machines that can make short work of many of the projects around your property.  Need to demo and remove an old shed?  Want to tear out an old fence?  Move a pile of soil from the front of your home to the garden beds in the back without a wheelbarrow?  Make a new gravel parking pad for your new boat or RV?
There are literally hundreds of different tasks we could complete around your home with one of our skid steer machines.
Why Choose Terrace Property Maintenance Ltd. For Landscaping or Property Maintenance Services in Winnipeg, MB?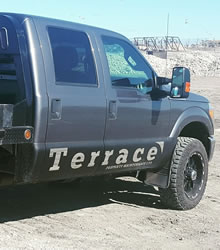 When you choose Terrace Property Maintenance Ltd. to provide landscaping and property maintenance services in Winnipeg you are partnering with a team of professionals who will care for and maintain the property we are working on as if it were our own.  You can count on great communication, reliable service, and special pricing just for contractors (ask us for details).
If you'd like to receive an estimate to use Terrace Property Maintenance Ltd. services on your next project please give us a call (204) 202-6939 or send us an email through our contact form and we'll get right back to you.