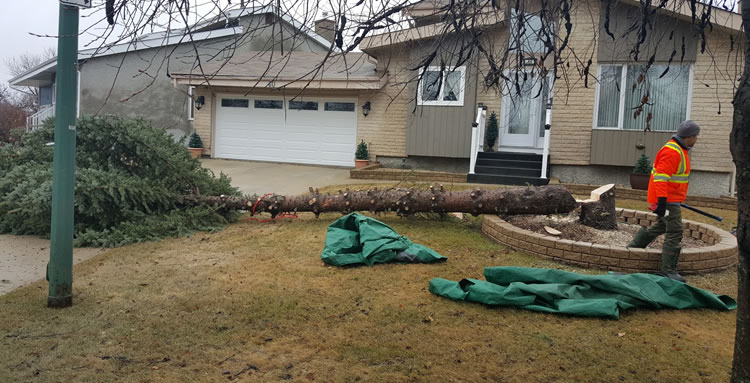 Expert Tree Services in Winnipeg, Manitoba
Tree Removal, Tree Trimming, and Tree Planting
Do you have a large tree or several large trees on your property that you'd like to trim back into shape or even remove totally if they pose a danger to your property?  Maybe you'd like to plant a brand new privacy hedge, or plant some mature trees on your property?  You've just stumbled upon a Winnipeg company that specializes in tree services!
Terrace Property Maintenance Ltd.  Is a full-service landscaping contractor based out of Winnipeg, MB.  We specialize in the tree services including dangerous tree removal, trimming trees that are overgrown or touching the home, hedge trimming, planting new trees, transplanting trees and stump grinding services.  If you need to remove just one tree causing you a problem or would like us to trim up every tree on the property we'll have solutions for you.
Tree Services in Winnipeg Manitoba
Tree and Bush and Shrub Removal By Laws in Winnipeg MB
Within the city of Winnipeg there is a specific set of by-laws (Neighbourhood Liveability By-Laws) that have provisions for the maintenance and removal of trees.  It states as follows:
Vegetation on properties

8(4) Trees or shrubs on property must not be allowed to interfere with:
(a) the City's works, including sewer and water pipes;
(b) the operations of the City on the street;
By-law No. 1/2008 12
(c) pedestrian or vehicular traffic on the street;
(d) motorists' or pedestrians' view of directional signs or traffic control devices;
(e) the sightlines of motorists or pedestrians.
So in short, if you have a tree that is interfering with city works, or operations on the street, or pedestrian or vehicle traffic, or sightlines of motorists then the tree must be trimmed or removed where appropriate and we'd be happy to come and take a look for you.
Stump Grinding Services in Winnipeg MB
Sometimes, it's just not feasible to get a stump out of the ground using a large machine if the tree is in a tight front or back yard, close to fences, buildings or other obstructions.
When a tree has been removed from your property in these situations a stump grinder offers a great way to get rid of that ugly stump and reclaim that patch of your property back.
The stump grinder can be maneuvered into tight spaces and won't damage your property in the process.
Why Choose Terrace Property Maintenance Ltd. For Tree Services in Winnipeg, MB?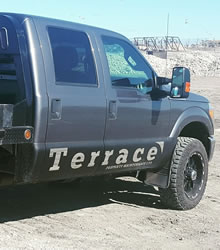 When you choose Terrace Property Maintenance Ltd. to provide tree services in Winnipeg you are partnering with a team of professionals who will care for and maintain your trees as if they were our own.  You can count on great communication, reliable service, and fair prices.
Our team takes great pride in the work they do and we listen to the needs of each and every customer as no two properties are alike.  You can count on real solutions to getting the trees on your property properly cared for.
If you'd like to receive an estimate for tree services from Terrace Property Maintenance Ltd. please give us a call (204) 202-6939 or send us an email through our contact form and we'll get right back to you.